Welcome to Coach Tribe Webinars!
Welcome to our Webinar Series!
We are thrilled to have you with us and cannot wait to host you with our amazing coaches during these sessions.
With this new normal setting in and a complex situation, we wanted to bring you value and share with you some value, thus the launch of these webinars.
If any questions, send us an email to contact@coachtribe.co
Get the replays of the "Be grounded and prepared for 2022" bootcamp
What a year 2021 has been!!! 
And we are already the end of it, which means this is the perfect time to reflect on the year and get ready to Kick A** 2022. 
With the amazing coaches of Coach Tribe, we want you to feel fully ready to tackle this new year and making it the best yet!
Do you feel like you are overwhelmed sometimes?
Have you felt stressed or anxious at time?
How far are your from the objectives you set for yourself?
What would you like to have accomplished so far and want to accomplish next year?
During this bootcamp, we tackled all these questions and even more. 
We want you to shine, to live up to your full potential and reach your goals, your dreams. 
Even if you missed the LIVE 3 days bootcamp, don't miss out and get the REPLAYS!
We got you!
You got this!!
or purchase the replays per session
Our previous webinar sessions
April Coach Tribe Webinar series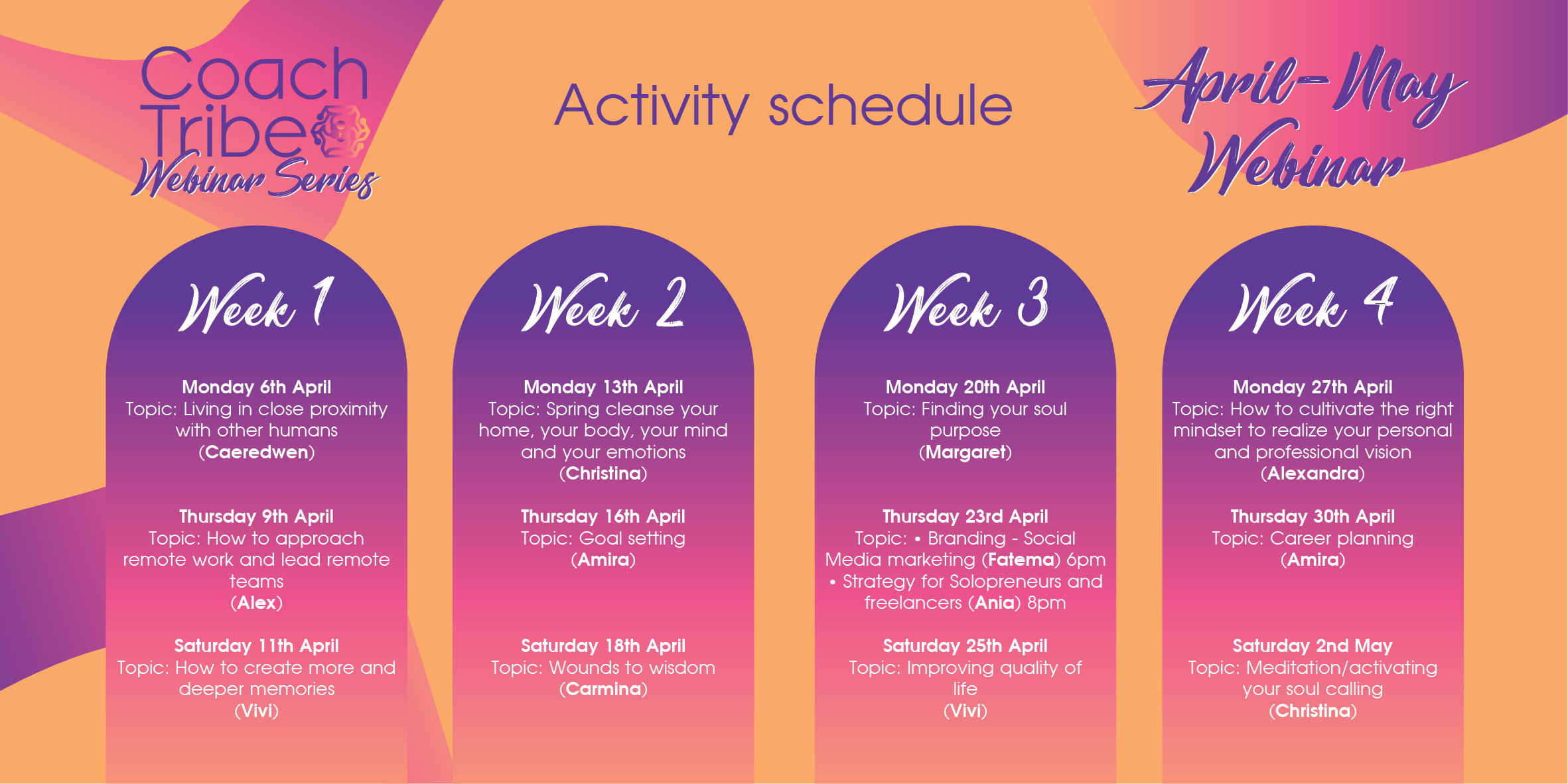 Monday 6th April : Living in Close proximity with other humans
Thursday 9th April : How to approach remote work and lead remote teams
Saturday 11th April : How to create more and deeper memories
Monday 13th April : Sping cleanse your home, your body, your mind and your emotions
Thursday 16th April : Goal Setting
Saturday 18th April : Wounds to wisdom
Monday 20th April : Finding your soul purpose
Thursday 23rd April : Branding – Social media marketing @ 6pm
Strategy for Solopreneurs and freelancers @ 8pm
Saturday 25th April : Improving quality of life
Monday 13th April : Sping cleanse your home, your body, your mind and your emotions
Thursday 16th April : Goal Setting
Saturday 18th April : Wounds to wisdom
May Coach Tribe Webinar series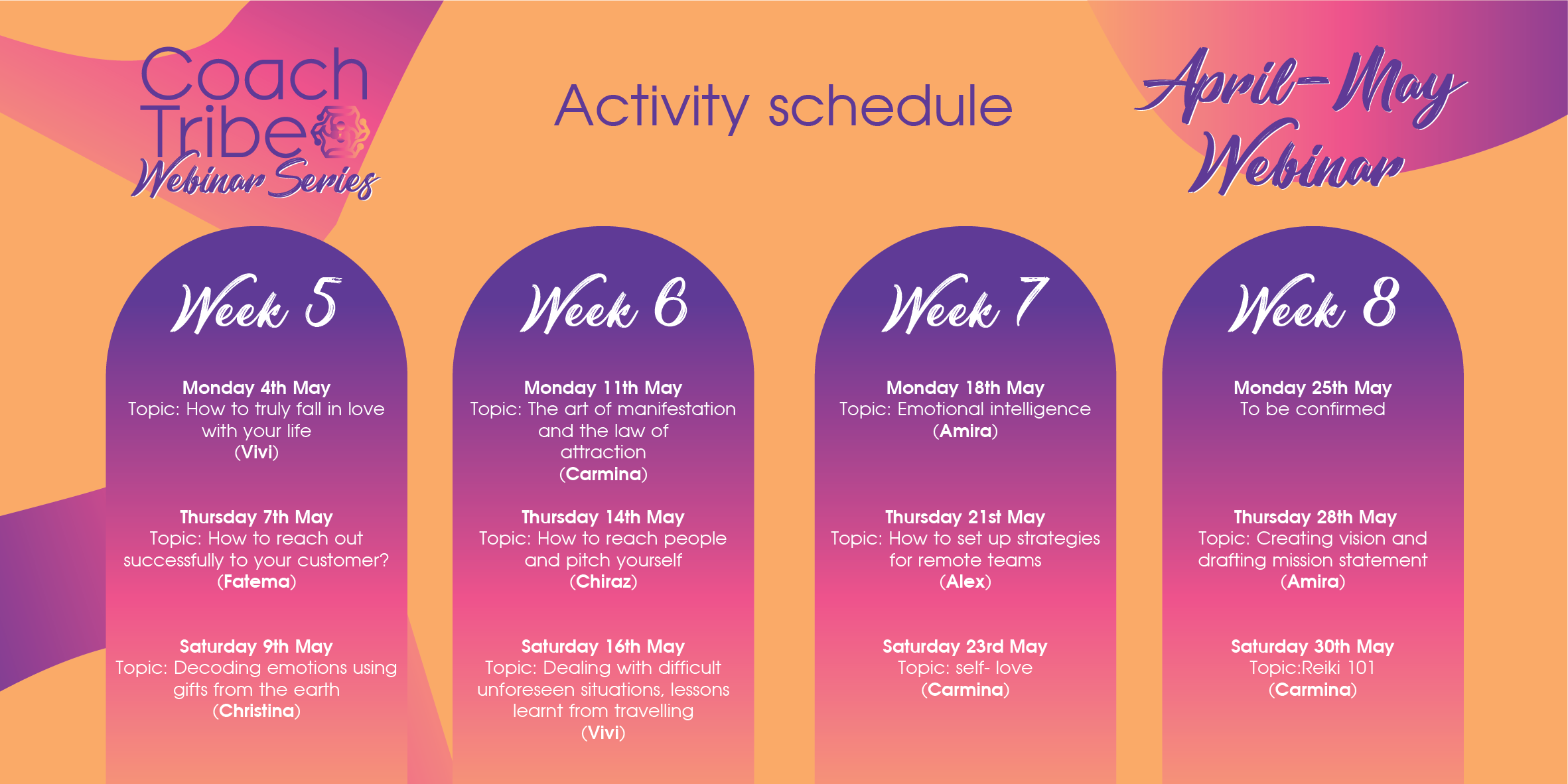 Monday 4th May : How to truly fall in love with your life
Thursday 7th May : How to reach out successfully to your customer?
Saturday 9th May : Decoding emotions using gifts from the earth
Monday 11th May : The art of manifestation and the law of attraction
Thursday 14th April : How to reach people and pitch yourself?
Saturday 16th May : Dealing with difficult situations, lessons learnt from travelling
Monday 18th May : Emotional intelligence
Thursday 21rd May : How to set up strategies for remote teams
Saturday 23rd May : Self-Love
Monday 25th May : How to eliminate overwhelm, execute on your ideas and "finally" start seeing results
Thursday 28th May : Creating vision and drafting mission statement
Saturday 30th May : Reiki 101
30 N Gould Street Ste N, Sheridan, Wyoming, 82801, USA